Description
Reviews
Shipping & Returns
UP6 Plus AC 2x150W DC 2x300W Dual Output Smart Balance Charger
Made By: UP
Item No.: UP-6PL
FEATURES:
01. Dual channel output, single channel current up to 16A.
02. 3.5" LCD display, four working modes, simple control by one shuttle key.
03. Independent mobile phone wireless charging function, built-in charging sensor chip.
04. Enjoy a fast 200W discharging - External discharging function.
05. Motor /Servo testing function.
06. Colorful UI display interface, clearly show the charger real-time status.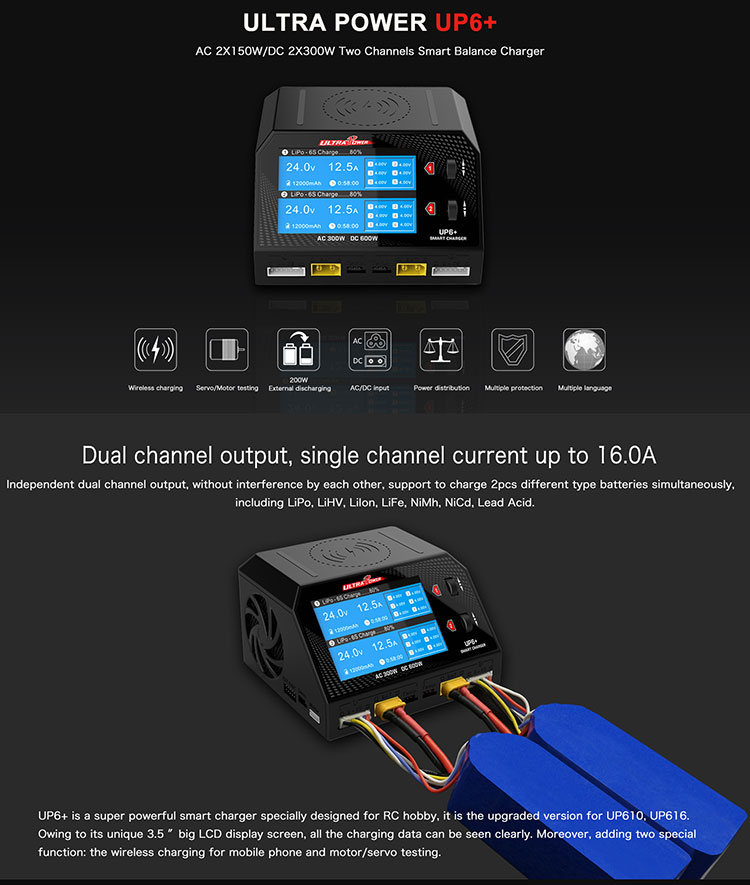 Specification
Input: AC100-120V OR 220-240V, DC9.0-32.0V
Output: 0.1-30V
Charging Current: 2x 0.1-16.0A
Discharge Current:
CH1: 0.1-3.0A /0.1-15.0A (Externam discharge mode)
CH2: 0.1-3.0A
Charge Power:
DC Input: 2x 300W
AC Input: Max 300W (CH1+CH2)
Support power distribution
Wireless Charge Power: Max 10W
Discharge Power:
CH1: 8W/200W(External discharge mode)
CH2: 8W
Balance Current: Max 1000mA/cell
Support Batery Type:
LiPO/LiHV/LiFe/LiIon(1-6s)
NiMH/NiCD(1-16s)
Lead Acid 2-24V(1-12s)
LCD Screen Type: 3.5" 480x320 LCD
Dimension: 120x115x75mm
Weight: 810g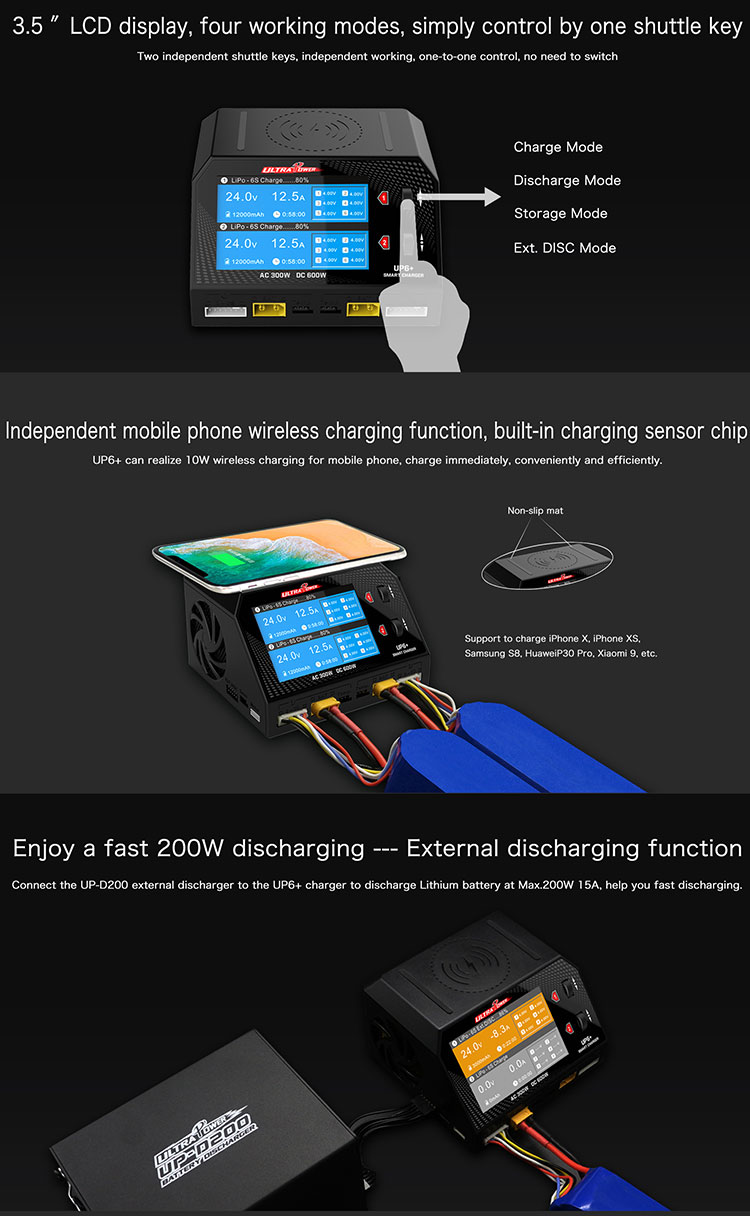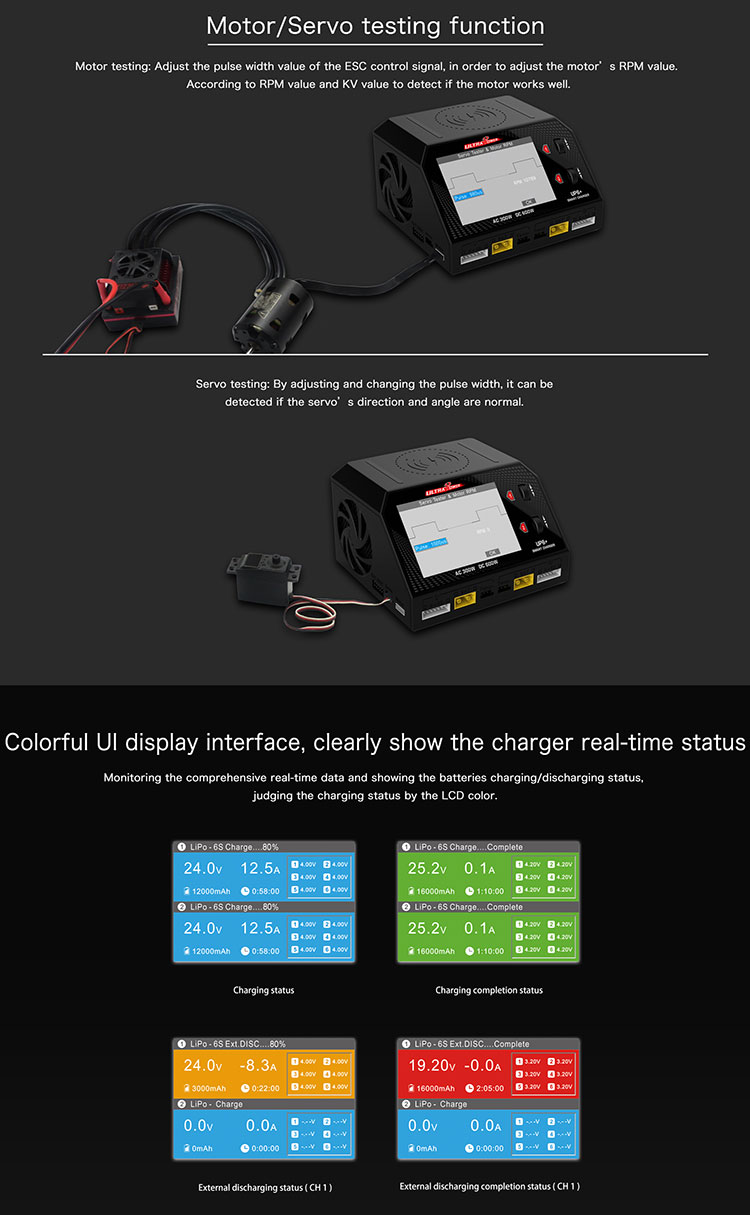 * Delivery Time.
We need 1-2 days to process your order before shipping.There are two shipping methoed. Fast Delivery: The delivery time for US, European countries the delivery will take 3-5 days.Slow Delivery: The delivery time for US, European countries the delivery will take 10-15 days.
* Tracking information.
After we ship package, customer receive automatic email with tracking details.
* Lost Package Policy.
If a package did not arrive in 4 weeks after the shipping date, then this package is treated as Lost. In this case a new package will be shipped to the customer provided we are able to give the same items as those purchased by the customer. If we are not able to provide the same items to substitute the lost ones we will either propose to the customer similar items or refund their cost as it will be mutually agree with the customer. If one or more items neither the same nor similar are available to be shipped, the customer can request to cancel the order entirely, thus the total cost of the order including shipping and handling cost will be fully refunded.
Recommended products